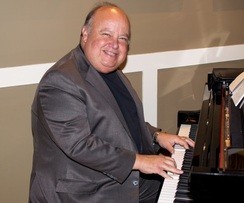 Doug Robinson is the principal and owner of Musical Impressions, based in Needham, MA. He performs solo piano engagements and teaches students of all ages.
​​
You are never too old or too young to start taking piano lessons and acquire the gift of music that will last a lifetime. Students have their lesson plan designed personally to make sure that it is enjoyable and fun, however it does require a commitment to allow for practice time. Once students realize that they can play songs in the most simple form, they enjoy a new-found interest and willingness to spend the time that it takes to improve and make music a part of their daily lives. Oh and yes. we still make house calls in Needham and surrounding towns, just ask and we will try to accommodate.
Music always sets the mood and it can make a large or intimate gathering "the event of the season." Consider the addition of live piano background music for your next event' function or get together and Musical Impressions will arrange to bring its own electric piano that with modern technology that gives us a wide variation of sounds and rhythms to create a memorable occasion.
Anyone can play the piano! I have taught students from 5 to 75 years old. All you need is to love music and find a little time to practice. Start playing simple songs from day one and see the possibilities of your goal to have piano become your passion. It must be fun, but you need to be sure to include practice time into your daily schedule. I currently teach at a venue in Needham, but I also make house calls in Needham and surrounding towns! Let's talk about the best time and location for you.
A unique curriculum is developed for each student. We will design a program that is individualized, including basic scales, chords, reading music, utilize different books and sheet music, as well as songs that the student enjoys and wants to learn. The most important part of the plan is understanding what the goals of the parents and students are and then creating a plan that makes sense for their lifestyle and practice commitment.
​​​​​January 26, 2015

Doug is fantastic. Since my daughter starting working with him, I have seen her ability and enjoyment sky rocket. He's ridiculously patient and is super flexible. I recommend him to everyone.
-Krystle B.
​
January 25, 2015
Doug is the consummate teacher and professional--clearly the best with whom I have ever worked. I am a 55 year old professional who, due to the obligations of a busy work load, has let his piano skills deteriorate. Doug, through his skilled approach, honed at the Berklee School of Music and his extensive entertainment gigs, is allowing me to be a more extemporaneous, improvisational, and modern pianist. He has his work cut out for him, but he has inspired me to stick with it. Playing the piano has become enjoyable again, and is the respite that I have always wanted it to be - it's no longer a chore!! Thank you Doug!
-David R.
​
November 6, 2014
Doug has been great. He followed up right away and has been terrific to work with. He's put together an individualized curriculum for both our kids who are at stages in their playing and most importantly has made it fun for them, so that they look forward to their lessons. Positive experience all around!!
-Jon L.
Doug has performed at many events and venues including hotels, country clubs and assisted living facilities throughout New England including Cape Cod. ​​​Doug's musical career highlights include performing with Mary Martin and Arthur Fiedler, as the organist for the NHL Hartford Whalers Hockey Club for four years, and holding the position of Music Director for the TV 38 television show," The Sports Fan" taped live at the Mohegan Sun Casino.
Doug has recently been performing in assisted living facilities throughout the New England area including Newbridge at the Charles-Dedham, Fox Hill Village. Westwood, the Woodlands of Pleasant Bay-Brewster, Avita of Needham, Briarwood-Needham, Golden Pond-Hopkinton,Wingate in Needham and Andover, Avery Crossings in Needham, and Andover. Doug's ever- changing program includes tunes from the early days of the 20's and 30's all the way up to the easy listening and popular songs of today. We understand that each performance location has specific resident expectation levels, and we will personalize each performance to make sure that those levels are exceeded. A typical performance for Doug would be 60 minutes, and highlight some great piano tunes, stories regarding his experiences in music as well as explaining the origin of and composers of some of the songs - and from time to time a sing along may breakout ! We would love the opportunity to have Doug become a regular entertainer at your facility, and WOW your residents ! At your earliest convenience please contact us at (617) 710-7646 to arrange a convenient date and time.
​​​
Doug's vast knowledge of music has allowed him to help Alzheimer's patients reconnect with the world through the magic of music. The Alzheimer's Care Blog published an article about Doug, which explains the work he has done and how he has helped to improve quality of life for clients. ​(www.alzcareblog.com)
Doug Robinson is the Principal of Musical Impressions and a pianist and teacher living in Needham, Massachusetts.
Doug started taking piano lessons at age 5. He showed interest in piano and when he came home from church he started playing the hymns he had just heard. His mother signed him up for "group lessons". After a short time the teacher told his mother that he was not a good student and that he would never play the piano well and suggested that he stop taking lessons. That was enough fuel to have his mother find a private teacher and as they say "the rest is history". He fell in love with the piano and today it is his passion. He had a great teacher and much family support which enabled him to continue playing the piano. Growing up in Montreal, Canada he continued private lessons and completed taking examinations through the McGill Preparatory School of Music. After moving to the United States he took lessons at Dana Hall in Wellesley before enrolling at Berklee College of Music in Boston, MA where he majored in Music Education and Performance. He has been teaching privately and with groups for over 30 years.
Doug's musical career highlights include performing with Mary Martin and Arthur Fiedler, playing the organ for the NHL Hartford Whalers Hockey Club for four years, and holding the position of Music Director for the TV 38 television show "The Sports Fan" taped live at the Mohegan Sun Casino. He has performed throughout the New England area for Weddings, Country Clubs, Cape Cod Resorts, Hotels and other venues.

"Entre Amis" - Doug's CD

~Your Song
~Time in New England
~Theme from the Titanic
~Theme from the Phantom/Cats
~Such Great Heights
~Star Spangled Banner
~Send in the Clowns
~Satin Doll
~The Rose / Wind beneath my wings
~Piano Man
~Over the Rainbow
~One Tin Soldier / Morning After
~Oh Danny Boy / Daniel
~Oh Canada
~Mr. Bojangles
~Morning has Broken
~Love is Blue
~Let it Be
~Impossible Dream
~God Bless America
~Fur Elise
~Edelweiss
~Chariots of Fire
~All I do...I Do it For You
Samples from "Entre Amis" CD